---
---
---
The 10th Annual Hanthana Night - In virtual format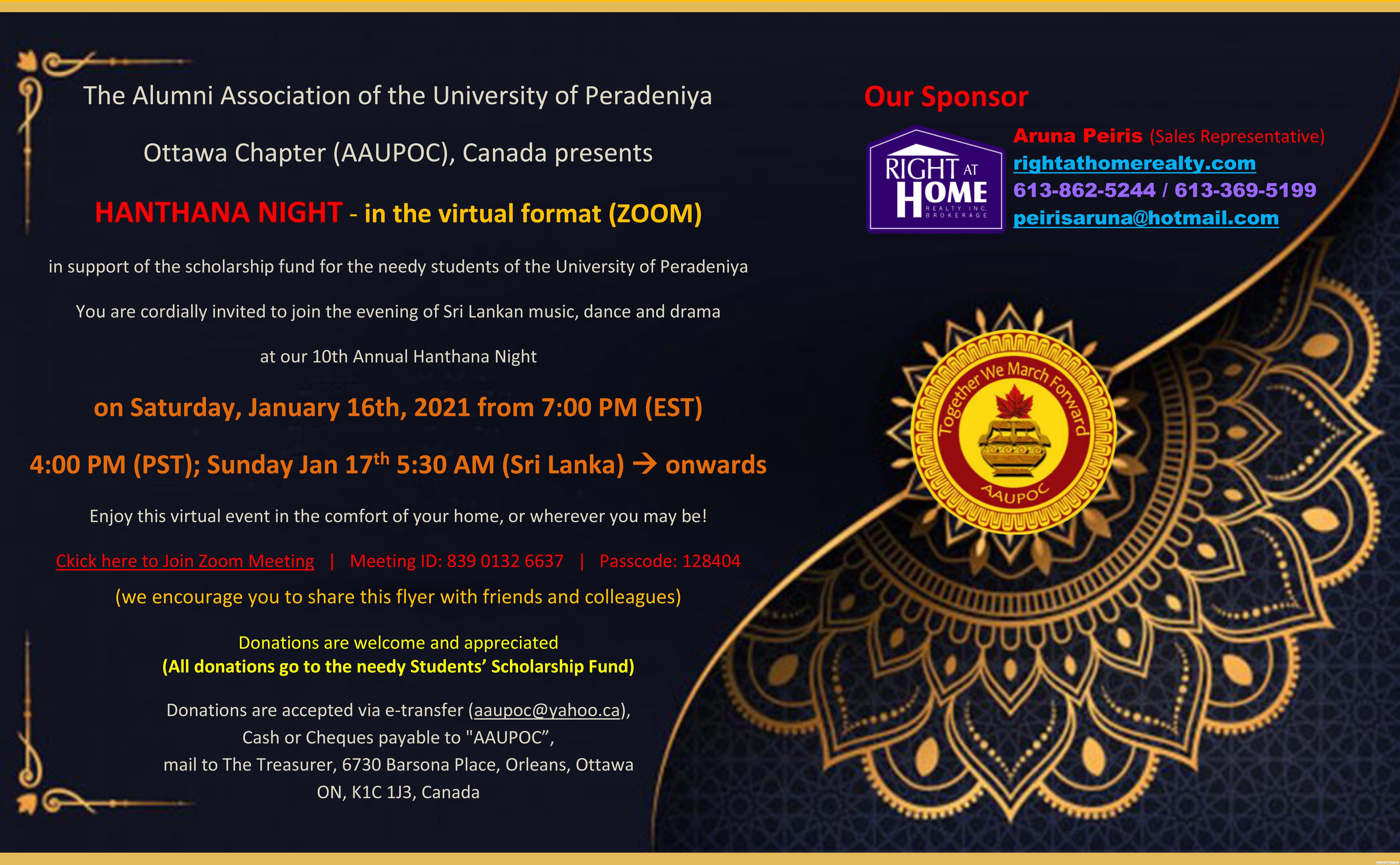 The 10th annual Hanthana Night (HN) was held on January 16th 2021 in the in virtual format. Since the inception of the AAUPOC in 2012, we have organized Hanthana Night as our flagship event in each fall, to promote friendship and comradery among the member families and friends of the Sri Lankan community living in Ottawa. Due to the COVID-19 pandemic and the associated restrictions for socializing, we were not able to host our HN in the traditional format in 2020 fall. Though we had no control over the unprecedented measures, we were able to react with poise and resourcefulness, due in large part to the enthusiasm of our Executive Committee and the organizing committee of 10th annual HN. Using the resources available in the virtual world to organize the HN virtual platform, the organizing committee was able to plan and execute an incredibly successful event with cultural and entertainment contents that are similar to our traditional HN. Most importantly, in this difficult time, when so many have lost the joy parts of their social life that brought them comfort and routine, these individuals were able to bring a small bit of normalcy and togetherness back to our community.

First, we would like to thank each of the talented artists who enthusiastically provided us with their high quality drama items, rich musical recitals, dances, and solo and duet singings to make the HN a lively experience. Though it is not an easy task to entertain and engage a virtual audience, these artists proved that it is Sri Lanka's legacy to provide rich and everlasting cultural gems, which can be enjoyed in any format. In truth, their dedicated performances were more than we could have even begun to imagine, and spoken about the resilience of the Sri Lankan spirit. We are very fortunate to have very steadfast volunteer members whose resourcefulness and technical acumen along with countless hours of devotion brought the Hanthana Spirit to a virtual format, which enabled reaching to an audience across the globe.

We sincerely appreciate our virtual spectators for spending their valuable time with us to enjoy HN, and for their encouraging and congratulatory remarks. There were over 275 participants mainly from Canada, Sri Lanka, UK, Australia, USA and a few other countries, regardless of the time zone differences. Many of our viewers commented that they enjoyed every minute of the show and they would like to use this rich experience to organize their own virtual entertainments. We also would like to extend our sincere thanks for their generous donations those contribute to the worthy cause of providing needy students' scholarships at the University of Peradeniya.

We would like to sincerely thank our sponsor, Aruna Peiris for his generous financial support.
If you have missed the opportunity to enjoy the 10th HN virtual event, the video is available at the following link: http://www.youtube.com/watch?v=G0TcTMfgvXE